LED Industrial X-Ray Film Viewers FV-2008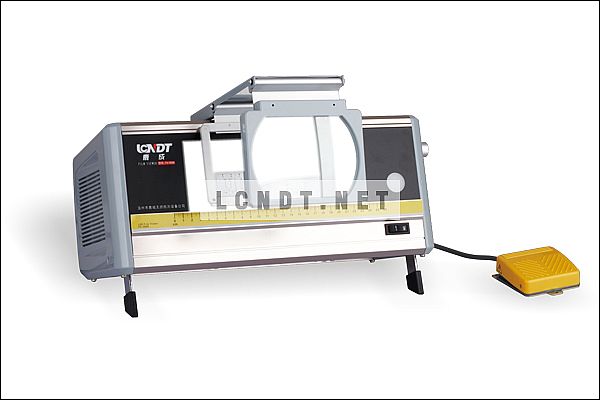 MAX. Luminance: 205,000 Cd/m2
Density: 4.3 H/D
Uniformity: 0.9
Window Size: 220*80mm
Weight: 5.8 Kg
download
Thanks to several years hard work by our R&D Dept., we use super powerful LED(SMD) as the light source for film viewer unprecedentedly, and finalize our fv-2008 as the world class super high intensity cold light Film Viewer.

Characteristic:
Luminance : ≥205,000Cd/M2 (643,700Lux), Uniformity: g≥0.9
Unlimited Dimmer for LED
Imported LED chip with original packing
Life span up to more than 50,000 hours
Rugged aluminum frame
Over-Temperature warning (check that the power light is red)
Free 2 years' guarantee
CE Marked
FV-2008 LED Film Viewer is developed according to the NORM of ISO 5580, ASTM 1390-90, EN 25580. We import LED chip abroad as the light source of viewer unprecedentedly. With its help, you can see tiny cracks on 5.0 density film easily. On foot-switch mode, the film being viewed will not be crimped after 12 hours of continuous working.
FV-2008 LED Film Viewer adopt constant current power which is specially designed to the viewer. With its help, the LED will be protected notablely, so the lifetime can be extended. For the sake of safe using, FV-2008 is adjusted in low voltage. By the magnifier and ruler which is mounted on the viewer, you can check tiny cracks conveniently.
Compares to traditional fluorescence tube and tungsten lamp:
| | | | |
| --- | --- | --- | --- |
| | LED | fluorescence tube | tungsten lamp |
| Luminance | 205,000Cd/M2 | 60,000 Cd/M2 | 90,000Cd/M2 |
| Same intensity, generate heat | low | medium | high |
| Life time | 50,000 hours | 2,000 hours | 1,000 hours |
| Aseismatic | good | poor | poor |
| Life time influenced by start-up times | Low(approximate none) | high | medium |
Luminance distribution of the view window(Unit:Cd/m2):
| | | | |
| --- | --- | --- | --- |
| 204,000 | 205,000 | 205,000 | 204,000 |
| 204,000 | 205,000 | 205,000 | 204,000 |
| 204,000 | 205,000 | 205,000 | 204,000 |
Specification:
Maximum Density: ≥4.8 H/D
Max Luminance: ≥204,000Cd/m2 (643,700Lux)
POWER: 90-264VAC 47~63Hz.,
(Full range)
Uniformity: g≥0.9
Diffusion factor: σ'≥0.95
Power consumption:136W
Surface temp. rise 18oC
After 12 hours continues maximum luminance
DIMENSION: 396*209*210mm (L*W*H)
VIEWER WINDOW: 220*80mm
Weight:5.8Kg

download