TD-210 Series Transmission Densitometers - Stop Production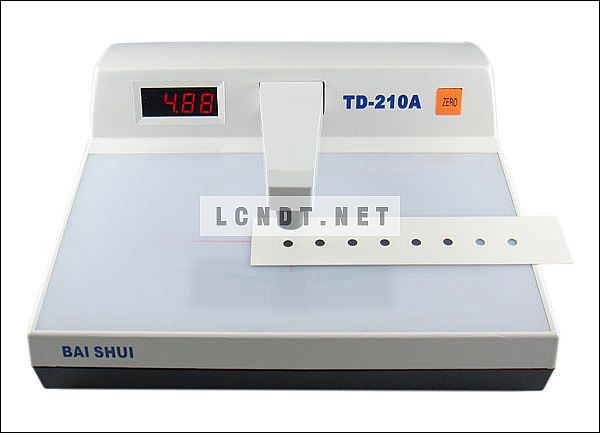 Type: Table Top
Density: 0.00-5.00 H/D
Accuracy: ±0.02 D
Function: Much more economical than Xrite Densitometers
download
TD-210 is produced under the cooperation of Shanghai Jiaotong university's technicians and our company. It is the first high-technology densitometer operating by computer in China, with the advantages of high accuracy, stable and easy to operate. In order to meet the demands of different customers, we update the design, add more capabilities. Now we have various kinds of TD series, like TD-210 and TD-210A.

Our company is the only one which owns three National Meter Certifications in China:
CPE: Chinese measurement academy for new product used in testing
CPA: certification of approval of metric device appearance
CMC: certification of producing metric products
TD-210 series densitometer is the only densitometer which passes the exam by Ministry of Labor Boiler Pressure Vessel Examination Center and under the strict supervision of this center in China.
TD-210 was chosen by China to join the Sweden International Invention Exhibition in 1992.
Specification
TD-210
TD-210A
Measuring range
0.00-4.00D
(2mm light hole)
0.00-5.00D
0.00-4.00D
Accuracy
+ -0.02D(0.00-3.50D)
+ -0.04D(3.50-4.00D)
+ -0.02D(0.00-3.50D)
+ -0.04D(3.50-4.50D)
+ -0.08D(4.50-5.00D)
(2mm light hole)
+ -0.02D(0.00-3.00D)
+ -0.04D(3.00-4.00D)
(1mm light hole)
Repeatability
+ -0.01D
Zero drift
+ -0.02D/8h
Operating Temperature(℃)
0-40
Power
220V+ -10%, 50-60HZ, 25W
Dimension(mm)
300×270×130
Weight(Kg)
3

download