Portable LED NDT Inspection Lamp UV-100 Lights (Dual UV & White LED)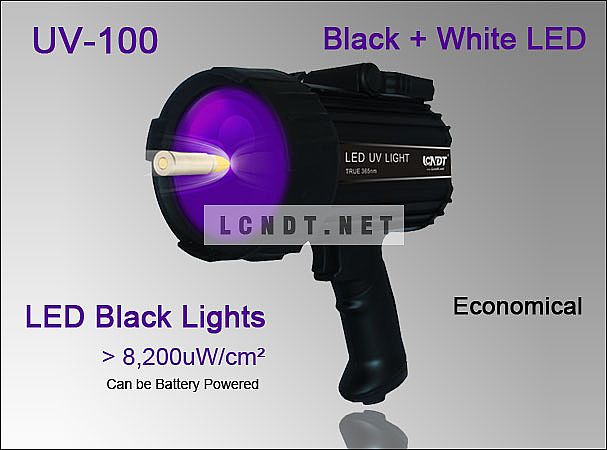 Portable LED NDT Inspection Lamp UV-100 Lights (Dual UV & White LED)
"Robust, High UV-A , Economical The Best Substitution of Traditional Lamps
Super Strong UV Intensity, No Warm Time
Work Continuously, No Heat, Life Time > 30,000 Hours
Optional Li battery is available, For 6 hours working
Global First – Special Optically PMMA Lens, Resistance to fall off
Features:
Powerful UV LEDs applied (365nm, Pure UV-A)
Powerful White LED is also provided
UV Intensity at 15 inches (38 cm)
Diameter UV coverage area at 15 inches (38 cm)
Low visible light emission – less than 2 foot-candles (22 lux)
Supplied with a Certificate of Conformance for both wavelengths and output measurements.
Meet ASTM UV-A intensity and LED wavelength specifications for FPI and MPI.
Water and dust proof, 2.5m soft power cord exactly suit to any poor working conditions
CE Approved
UV-LED Risk Class acc. to DGZfP EM6 and BGFE:2
Portable LED NDT Inspection Lamp UV-100 Lights Demonstration Vedio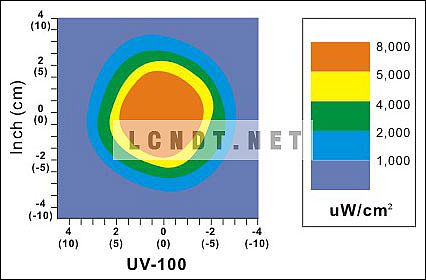 Optional Lamp Holder :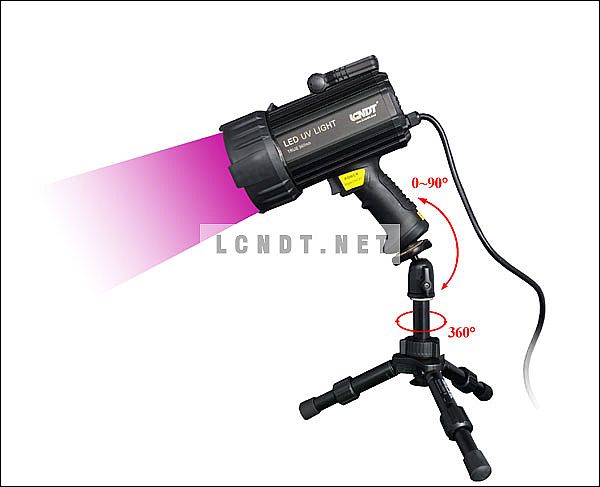 Spot uniformity compared with traditional Mercury Vapor: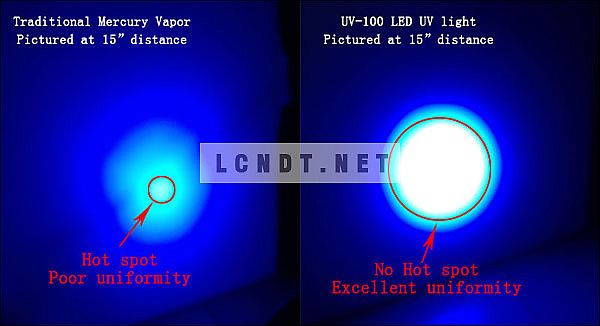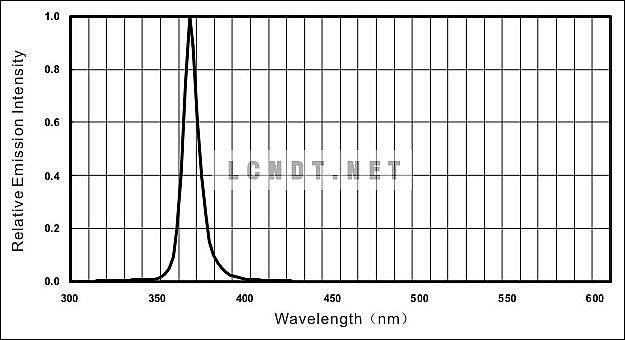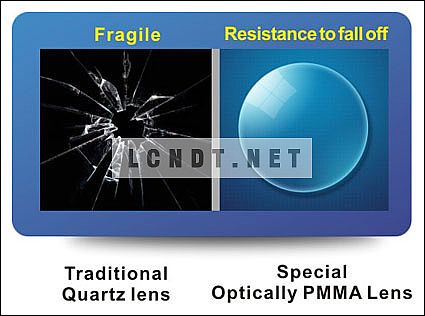 Specifications:
Power Supply: 115-240 VAC / 50-60 Hz (Universal)
Weight: 1.5 pounds (0.7Kg)
Dimensions: 8.6"×9.4" ×4.3"(220×240×110mm L×W×H)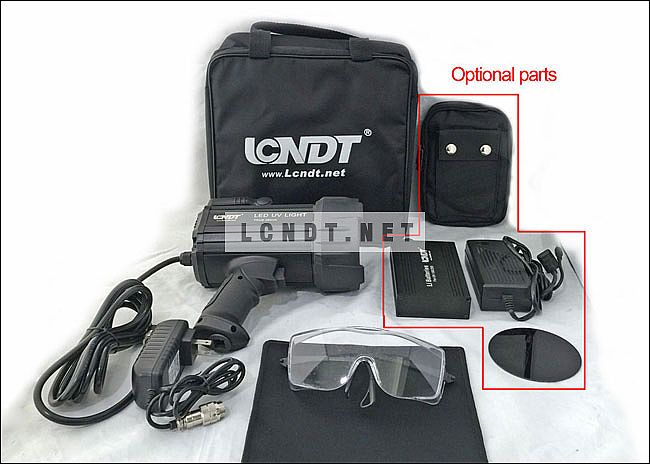 Standard package includes:
Black Light, UV absorbing spectacles, Soft Carrying Bag, Power Supply, 2.5m Cord to connect the light to the power supply.
Optional Spare parts:
PURE-365 Wood glass UV Filter, High performance Li battery, Rugged Carrying Case, Lamp Holder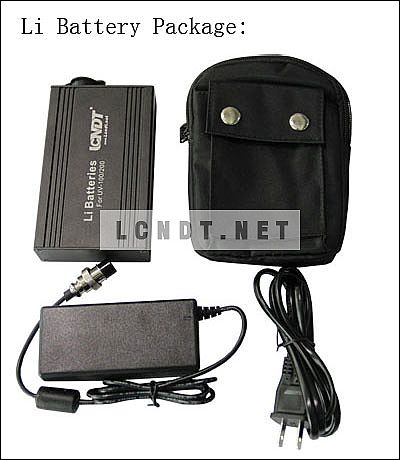 Why we do not need an Wood Glass UV filter?
The UV LEDs we adopt is high quality that produce the optimum 365 nm±5nm wavelength (narrow-band), no UV-B and UV-C, very low visible light emission , so there is no technical reason for a Wood's Glass filter.To Military or Aerospace industry which is very sensitive to visible light, you can choose PURE-365 UV filter, remove 99% visible light.
LED UV Lights

Mercury Vapor

HID blubs

UV Intensity

>9,000uw/cm²
>5,000uw/cm²
>6,000uw/cm²

Lifetime

30,000 hours
800- 3000 hours

Heat

Low power consumption, low heat, temperature rise<5℃
Not only emit UV lights,but also infrared lights. temperature rise >60℃ when fans applied, dangerous for users

Warm time

0 seconds
>10 Minutes
>5 Minutes

Weight

1.5 pounds

11-18 pounds

Environmental

Green
High power consumption, Mercury-containing, high radiation
High power consumption, high voltage start

download