ASTM E 747/ASTM E 1742 Penetrameters/ IQI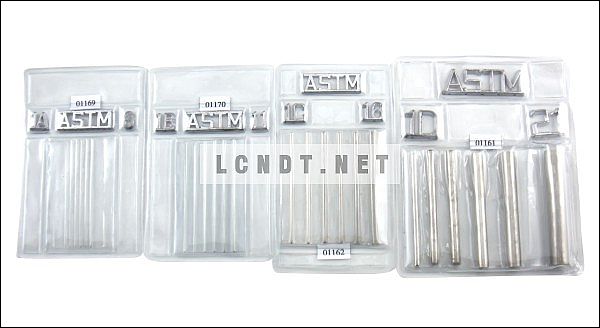 Each indicator consists of a series of six parallel wires of different diameters 25 or 50 o 50mm height, mounted between two thin sheets of transparent, flexible PVC.

Lead charachters identify ASTM. It follows a number that identify type of material and a letter that define the range of wires diameters.

The other number (6/11/16/21) identify the number of wire of greatest dimeters of this set.
| | | | |
| --- | --- | --- | --- |
| Standard | Model | Wire length | Price |
| ASTM E – 747-97 | Set A (FE) | 50mm | $ 5.49 |
| | Set B (FE) | 50mm | $ 5.49 |
| | Set C (FE) | 50mm | $ 7.05 |
| | Set D (FE) | 50mm | $ 14.11 |
| Standard | Model | Wire length |   |
| ASTM E – 747-97 | Set A (AL) | 50mm | $ 7.84 |
| | Set B (AL) | 50mm | $ 7.84 |
| | Set C (AL) | 50mm | $ 11.76 |
| Standard | Model | Wire length |   |
| ASTM E – 747-97 | Set A (CU) | 50mm | $ 7.84 |
| | Set B (CU) | 50mm | $ 7.84 |
| | Set C (CU) | 50mm | $ 11.76 |
| Standard | Model | Wire length |   |
| ASTM E – 747-97 | Set A (TI) | 50mm | $ 54.86 |
| | Set B (TI) | 50mm | $ 54.86 |
| | Set C (TI) | 50mm | $ 65.83 |

Wire diameters (mm)
| | | | | | | |
| --- | --- | --- | --- | --- | --- | --- |
| Set A | 0.08 | 0.10 | 0.13 | 0.16 | 0.20 | 0.25 |
| Set B | 0.25 | 0.33 | 0.40 | 0.51 | 0.64 | 0.81 |
| Set C | 0.81 | 1.02 | 1.27 | 1.60 | 2.03 | 2.50 |
| Set D | 2.50 | 3.20 | 4.06 | 5.10 | 6.40 | 8.00 |

ASTM indicators are also available in 25mm lengths. Price on request

download