Automatic Film Processors P14-A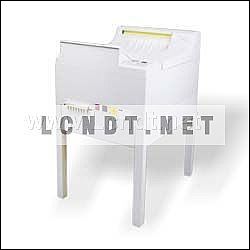 P14 and P17 deep tank film processor is one of the best products from Proce family. It is capable for medium and large quantity film developing. The processed films are clear and highly transparent. It can increase your testing efficiency and accuracy.

LuCheng P14,P17 and P430 series Automatic Film Processors are developed by U.S.A, all of the spare parts is imported from U.S.A, and manufactoried by us. Because of it, you could enjoy the same level performance as world class Processors with much competitive price.

P14-A(deep cylinder)

P17-A(deep cylinder)

Minimum film size

8x10cm

8x10cm

Maximum film size

35x150cm

43x200cm

Processing time

6-14min

6-14min

Quantity
Theoretical amount

18-42sheet/hour(14″x17″)
60-150sheet/hour(3″x12″)

18-42sheet/hour(14″x17″)
88-210sheet/hour(3″x12″)

Developing temperature

20-40℃

20-40℃

Fixing temperature

20-40℃

20-40℃

Washing temperature

Normal temperature

Normal temperature

Drying temperature

20-70℃

20-70℃

Supplement quantity

50-500ml/㎡

50-500ml/㎡

Medicine trough capacity

10.2L

12.5L

Water consumption

2L/min(processing)

2L/min(processing)

Dimension

105x65x123cm

105x72x123cm

Weight

65Kg

80Kg

Power

220V/50HZ/10A

220V/50HZ/10A

download