Portable AC Power For AC Yokes YP-1000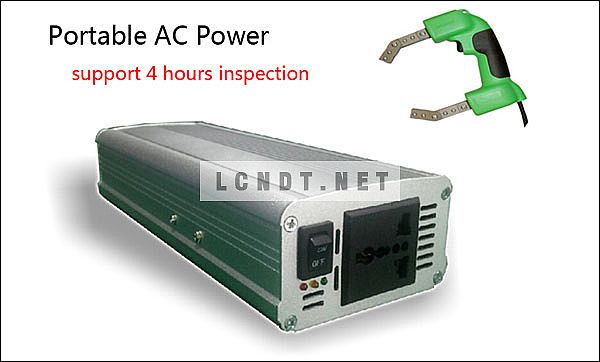 Characteristic:
True AC output giving superior "skin effect" advantages over yoke with DC power.

Suitable to most of portable yokes.

Belt Accessories – Aerosol holsters, spare battery case and yoke case

Internal high-capacity Li battery – Typically can support 4 hours @ 25% duty

Low weight – only 1.3 Kg
YP-1000 will be your best choice when you do AC electro-magnet inspection where AC power is unavailable. It can be suitable to most of portable yokes in the market. So you do not need to purchase an extra AC yoke.
YP-100 do have low battery indicator and safety cut out circuit. Protection against overcharge, over temp, over current, deep discharge and short circuit.
Suitable yokes:
For 220VAC yokes, drawing less than 3 Amps are compatible
For 110VAC yokes, drawing less than 6 Amps are compatible
Standard parts:
Portable AC power, Quick charger, belt
Optional parts:
Extra Li battery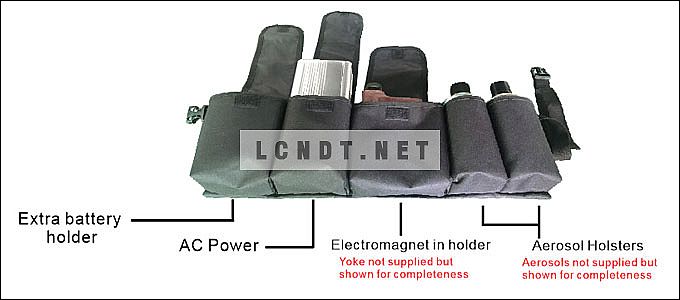 SPECSIFICATION:
Output voltage:

220VAC or 110VAC

(specify when order)

Maximum output Amps:

3.0A@220Vac

6.0A@110Vac

Charger input power:

110-240VAC

Charger Time:

3.5 hours

Operating time:

Yokes with 220vac, 2A: 4 hours @ 25% duty

Weight:

1.3Kg (2.86 Lb)

Dimension:

245mm*95*55mm (9.6" * 3.7" * 2.1")

download